Isabel Dibble tried to start Facebook with a Tunisian barman named Byram, but accidentally reached a taxi driver of the same name. The two talked for half a year before meeting in reality and decided to get married
The Facebook feud has led to a relationship: 62-year-old Isabel Dibble from the UK, a grandmother of 10 grandchildren, married a 26-year-old Tunisian man with whom she began to chat just in case. It all started when Dibble returned from a vacation from Maida in Tunisia a year ago, during which she flirted with Barista at an airport cafe called Byram. Byram sent her a Facebook friend request, and Dibble initially refused and deleted him, but immediately regretted it.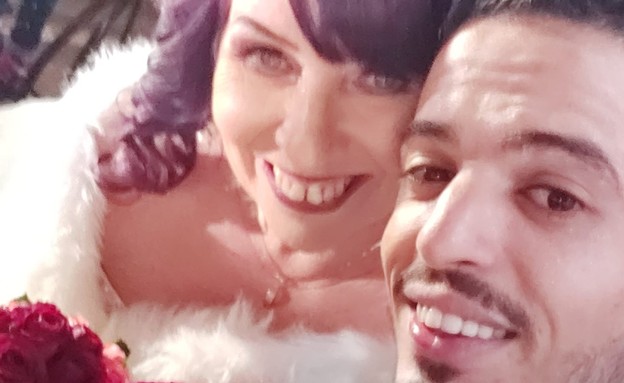 Dibble tried to find him on Facebook and send him a friend request, but inadvertently sent a request to Byram Bosada, a young cab driver she had never met. The two began to correspond with each other and later moved on to phone calls, video chat. "We would talk for hours, and sometimes until 3 AM," she says. "I knew there was something there, it was like we had known each other our whole lives." Only last October, the two met face-to-face, and were married in January in Tunisia. "I told him that if he really wanted to marry me, he should ask properly," she says, "and a week later he sent me pictures of a ring tray and asked me to pick one."
The age gap, of course, didn't elude either, but Dibble says he doesn't mind: "I know there are a lot of disadvantages in this regard so I had doubts and was skeptical. I read stories about such women and I never thought I'd be in this position, but he never asked me for money, and never asked me for anything. He doesn't care if I move there or he comes here, we just want to be together. " Byram, for his part, claims to be in love with Isabel, whom he calls "my beautiful woman, my soul." He says, "Age is just a number and I don't see her as an older woman, I only see a good woman. She's crazy, but kind. "
"When I first met his parents, they were wonderful," says Dibble, "they put candles everywhere and brought a cake, and he offered me a marriage before them. My family was a bit on the market at first and told me to be careful, which is natural, but their attitude was 'have a hard time in life, do what makes you happy'.
Dibble, a receptionist by profession, has been married three times in the past, but has lost her three owners to various illnesses. In 1989, her first husband suffered a heart attack, and her second husband also died in 2000 as a result of a heart attack, while the third died of cancer in 2015, three months after they married.
Her 37-year-old daughter, her mother, did not attend the wedding and has not yet met Byram, but she claims the relationship between them seems genuine and that he very much loves her mother. "I talked to me in feisty when my mom was there, and it would be nice to meet him in reality. He is my mother's husband, after all. "
Now Dibble hopes Byram will be able to get a visa and come to live with her in England after the Corona case ends: 'I have children and grandchildren here, so I don't want to leave. We hope that will happen in June. " She also admits that the two talked about starting a family – "I have three grown girls and I don't want any more children, and right now he doesn't want to either. He's also young enough so if he changes his mind, he'll have time to do it with someone else. "